Say you have an old group of students that are graduating and you want to use their seats for a new group of students. This is how to do it:
If you haven't already, go to the EDU admin panel and add the new students as you normally would in the "+Add users" section. 
Your new students will appear in the list of "All users" (1) with all of your old students. Select the students you wish to unseat (remove) and choose "Actions" --> "Unassign seats" (2). A warning symbol appears next to students who don't have seats (3). To assign seats for your new students, simply select them in the list and choose "Actions" --> "Assign seats" (4). Note that you can undo and redo these actions any number of times!
(1) EDU admin panel - All users
(2) Actions - Unassign seats
(3) Users without seats warning symbol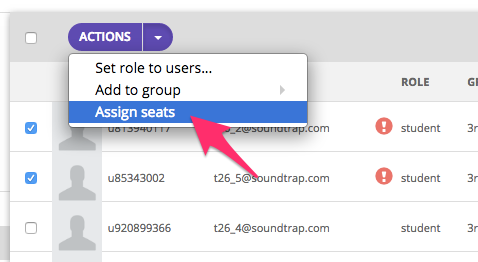 (4) Assign seats